As cliche as it is, at Turso we are in fact obsessed with user feedback. Our recent Launch Week, taking place between Monday September 25th and Friday September 29th, was a direct result of that obsession.
The team spent months behind the scenes preparing a plethora of product updates, integrations, new releases and other impactful announcements to address the needs of our community of current and future users.
Thankfully the results show those investments paying off. While the team is already hard at work building what's next and responding to feedback from the launches, let's take a moment to look at the week that was…

Last week alone we welcomed 1.5k new Turso users to the platform, more than any previous entire month, while visitors to our website, mostly organic, tripled over the week to more than 12k.
On the social media front the Turso Twitter (X) follower count grew by 700, and engagement has soared. We had impactful announcements to post each day that were well received, with help. Several of our posts have triple digit reactions, high double digit comment engagement and shares, and one of them even crossed 125k views 👇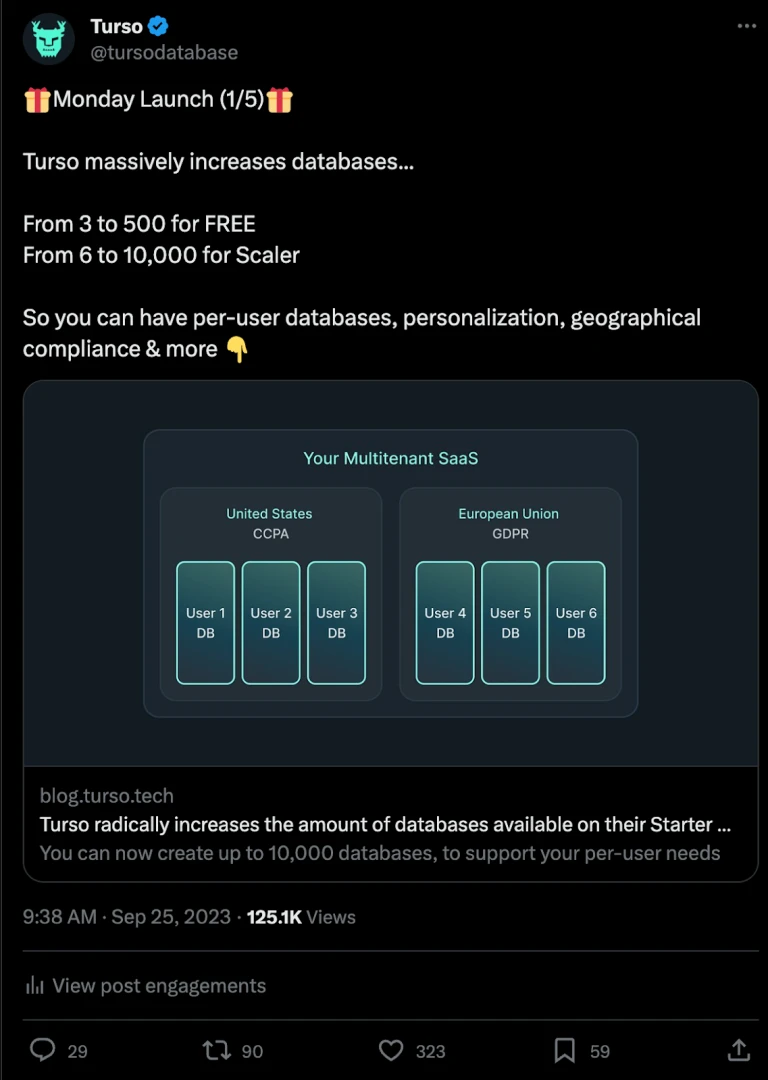 We also added 300 new members to the Turso Discord community and, more importantly, engagement within the community has shot through the roof. We're actually having trouble keeping up with all of the posts but, fortunately, we've fostered some community leaders who are stepping in to help out and interact with many of the newcomers.
And our github repo for libSQL, the open contribution fork of SQLite that powers Turso, gained 450 stars during the week.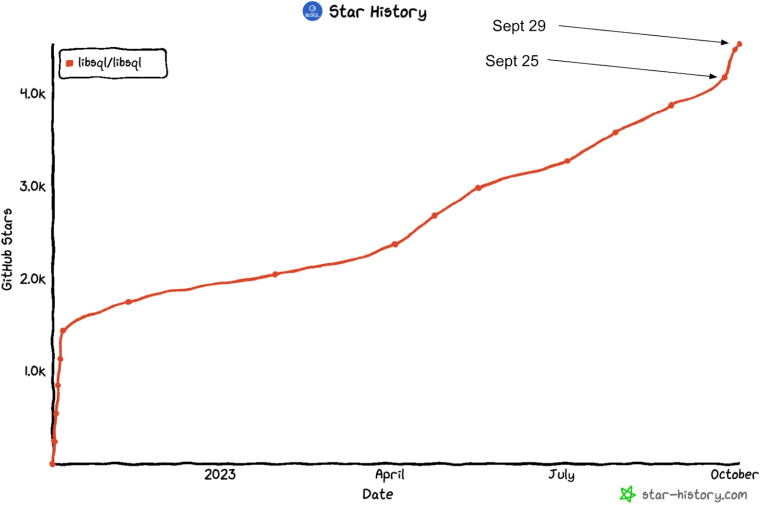 But what was announced during Launch Week?
On Monday we announced that Turso was radically increasing the database limits on the free Starter plan from 3 three to 500, and on the Scaler plan from 6 to 10,000. As you can imagine, that radical of an increase caused a lot of reactions and made this our flagship release of the week.
On Tuesday we introduced unlimited Embedded replicas, which make microsecond latency attainable by allowing users to deploy within their own infrastructure. It was great to see people begin to dream up new ways of using Turso when combining this with the higher database limits we already announced.
Wednesday we introduced on demand opt-in Overages for additional pricing flexibility on both the free Starter and Scaler plans. That means users can exceed plan limits on either plan, if and when they choose, without needing to upgrade immediately to the next tiered plan.
Integrations were the name of the game on Thursday, and we had three impactful ones to announce: Prisma ORM integration, inclusion in the Cloudflare Integrations Marketplace and an official Hasura connector. At this point many in the community were apoplectic from all the impactful updates we had been sharing all week, but we weren't done…
We really wanted to end the week with a bang, so on Friday we announced two new product features that we don't think many people saw coming yet: Database Branching & Point-in-time Restore. And yeah, reactions were great.
What's next?
We feel the weight of responsibility to do right by the growing community, and validate the accelerated growth and adoption we're seeing, so we're all already hard at work improving things thanks to engaged user feedback, and planning for what comes next. We've got lots of surprises left in store for the near future — we're just getting started — and we'd love your help building Turso into the best database in the world.
If you'd like to help out please join our Discord community and leave us a note. You can also follow us on Twitter (X), it'd be great if you could star the repo, and you even schedule a call directly with leadership to have a discussion.
Oh, and if you haven't yet tried Turso, now is definitely a good time to give it a go.